Healthy eating made easy with humanely raised local chicken
Easy chicken recipes were in the news when Karla dropped by WAVY-TV's studios for The Hampton Roads Show on August 27.
For those that would like to sign up for Seasonal Roots, be sure to use special code HRSJOIN10 to join for just $10!
During the course of one short interview, Karla whipped up three quick and easy chicken recipes. (You could also use tofu or any protein of your choice.) Every ingredient she used came from Seasonal Roots, all locally grown or locally made.
First, she sauteed a panful of chopped up local chicken that was humanely raised with no antibiotics or growth hormones.
From that single batch of chicken she then made three dinner entrees. Each one is so simple that its description is the recipe!
Eggplant halves topped with chicken tossed in basil pesto sauce, diced mozzarella, cherry tomatoes, fresh basil, and a drizzle of balsamic vinegar.
Stuffed bell peppers filled with chicken mixed with pico-poco salsa and topped with avocado-cilantro hummus and grated cheddar cheese.
Lettuce chicken wraps, each made in a cup-like hydro bibb lettuce leaf topped with chicken, matchstick apple slices, curry aioli sauce, and a sprinkle of chopped fresh chives.
Still got questions? Just watch the 8-minute interview, above, to see how they're done! Or, scroll down for the full directions and ingredients lists below.
Seasonal Roots makes healthy eating easy
When you eat local food in season, you're eating food that is fresher. That makes it more flavorful and, most importantly, packed with more nutrients. All those good things fade away the farther produce has to travel and the longer it sits on the shelf. So eating seasonally is really good for you and good for your taste buds, too.
And when you cook at home using real food like local produce and chicken, you know exactly what's in it. No preservatives, no dangerous chemicals, no unhealthy high fructose corn syrups, no surprise allergy triggers.
Plus, eating a variety of foods ensures you're getting all the nutrients your body needs!
More tips & tricks for eating seasonally and healthfully
Check out the tips & tricks Karla has shared in other TV gigs:
How to Eat Seasonally
Creative Ways to Enjoy Fresh Local Peaches
Max out Flavor & Nutrients with these Produce Storage Tips
Why Fresh Local Produce Supports Healthy Eating & Boosts Immunity
And now… 3 easy chicken recipes!
Stuffed Eggplant Caprese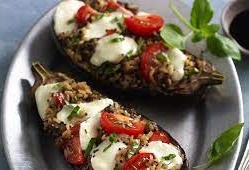 Ingredients:
(All available at SeasonalRoots.com when in season locally)
Eggplant
Diced chicken
Diced tomatoes
Fresh mozzarella
Balsamic vinegar
Basil pesto (2 cups fresh basil leaves, 1/2 cup grated parmesan, 1/2 cup olive oil, 3 cloves minced garlic)
Directions:
Slice an eggplant in half, scoop out some of the middle.
Cook at 350 for about 15 min.
Then stuff with cooked, diced chicken, diced fresh mozzarella, diced tomatoes, basil pesto.
Put under the broiler until the cheese is browned, and top with fresh basil.
You can also cook up the scooped out eggplant and add that to the mixture to not waste anything.
Of course, it also makes a great vegetarian dish. Remove chicken and add Tempeh or chickpeas.
Stuffed Peppers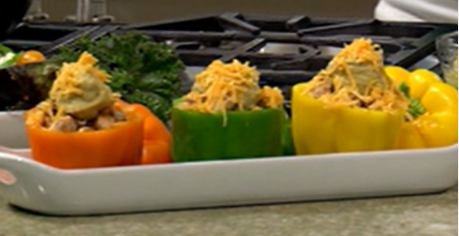 Ingredients:
(All available at SeasonalRoots.com when in season locally)
3 bell peppers any color!
Diced cooked chicken
Salsa
Avocado Cilantro Lime Hummus
2 Tbsp. Garlic, minced
1 Shallot, diced
Olive oil
Grated Cheddar Cheese
Directions:
Cut the tops off the peppers and core them, then throw in boiling water for 3 minutes.
Stuff peppers with cooked, diced chicken mixed with salsa.
Top with Avocado Cilantro Lime Hummus and grated cheddar.
Be creative! You can add beans or rice, mix with refried beans and top with salsa, change up the cheese, use poblano instead of bell peppers. Make it your own.
Curry Chicken Lettuce Wraps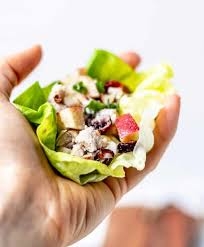 Ingredients:
(All available at SeasonalRoots.com when in season locally)
Lettuce
Cooked chicken
Bury Me in Curry Aioli
Thinly sliced tart apples
Chives
Optional add-ons whatever you have on hand: peppers, carrots, onions, grapes, etc.
Directions:
In a curved piece of lettuce add cooked chicken
Mix in Bury Me in Curry Aioli (yum!), thinly sliced tart apples, and sprinkle with chives.
Be creative! You can add sliced peppers, carrots, onions, or whatever you have on hand.
ABOUT SEASONAL ROOTS
Since 2011, Seasonal Roots' online farmers market has connected Virginia families with local family farmers who use sustainable, humane practices. Our veggie fairies – mostly moms who believe in living better through scrumptious, healthy eating, being kind to animals, protecting the environment, and spreading joy – home-deliver freshly harvested produce, pastured eggs, grassfed dairy and meat, plus artisan fare. We empower our members to eat better and live better with more nutritious, flavorful food that's good for us and good for the planet. More info at seasonalroots.com.
https://blog.seasonalroots.com/wp-content/uploads/2021/08/hampton-roads-show-still-shot-400x350.jpg
350
400
Veggie Fairy
https://blog.seasonalroots.com/wp-content/uploads/2016/08/seasonal-roots-logo-horizontal.svg
Veggie Fairy
2021-08-29 09:37:59
2021-09-03 10:39:54
Easy chicken recipes from Karla in the news!