Can you guess the hit songs these new jams and pickles are named for?
New jams can be edible or they can be dance-able but sometimes they can be both! (And sometimes they can be pickles, but more on that later!)
In the meantime, can you guess the hit songs these jams are named for? "Strawberry Zeal Forever"… "Bohemian Raspberry"… "I See Your Blue Colors"… Or how about this Veggie Fairy's personal favorite: "Dude Looks Marmalady".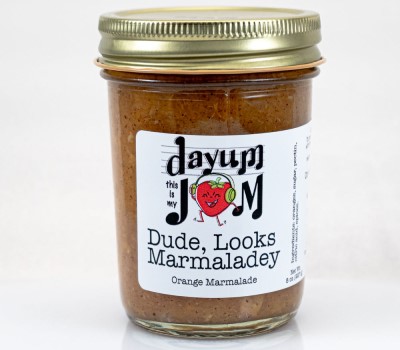 Whatever your taste in music, these punny new jams are sure to start your tastebuds dancing, and so are the pickles and more. So this one goes out to the one local foodies love: Dayum this is my Jam!
Making delicious, whimsically named yummies is a labor of love for Andy, Chief Jamming Officer and creator of Dayum this is my Jam.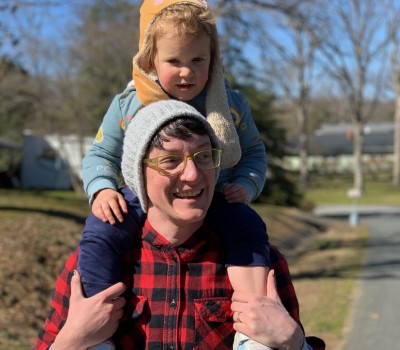 It all goes back to the day when Andy's BFF Lindsey shared an old family cookbook with handwritten recipes for jams and pickles. Andy, who uses the pronoun they, was looking for a creative outlet. And oh baby baby, did they find it in that cookbook! With Lindsey's help, they dreamed up the idea of a business that would make mouth-watering jams and pickles with names that riffed on hit songs. And thus, a new jam sensation was born.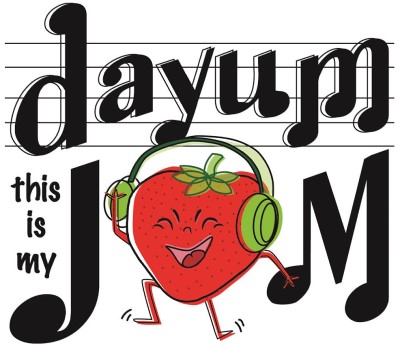 Dayum this is my Jam has been rocking local farmers markets ever since. Andy's groove includes jams, pickles, and salsas made from local ingredients. They've also drummed up waffle mix and even marinara sauce made from tomatoes grown in Hanover, Va. And they're committed to supporting their fellow business owners from underrepresented communities.
Now they're celebrating their 6-year Jamaversary! So put your hands together and give Andy a great big round of applause as we welcome them to the Seasonal Roots online farmers market!
We're starting with these pickled chart-toppers: "Psycho Diller"… "The Sweetest Tang"… and "Blister on the Tongue".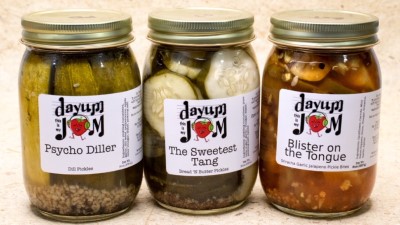 Look for them under the Artisan Goods tab in the Extras section this weekend!
You can also check out the Dayum is my Jam website and see how many more of those hit songs you recognize. Until next time, keep your feet on the ground and keep reaching for the stars!
ABOUT SEASONAL ROOTS
Since 2011, Seasonal Roots' online farmers market has connected Virginia families with local family farmers who use sustainable, humane practices. Our veggie fairies – mostly moms and dads who believe in living better through scrumptious, healthy eating, being kind to animals, protecting the environment, and spreading joy – home-deliver freshly harvested produce, pasture-raised dairy, eggs, and meat, plus wholesome artisan fare. We empower our members to eat better and live better with more nutritious, flavorful food that's good for us and good for the planet. More info at seasonalroots.com.
https://blog.seasonalroots.com/wp-content/uploads/2021/08/pyscho-diller-400x350.jpg
350
400
Veggie Fairy
https://blog.seasonalroots.com/wp-content/uploads/2016/08/seasonal-roots-logo-horizontal.svg
Veggie Fairy
2021-08-27 14:49:26
2021-08-27 16:48:49
New jams & pickles will be jammin' in the market!