You tell us home delivery is making a difference. That's all we Veggie Fairies need to know to keep going strong !
– By the Veggie Fairy Team
Home delivery is really helpful even in the best of times. Right now, in the middle of the coronavirus pandemic, home delivery may literally be a lifesaver. For us Veggie Fairies, just knowing that is enough to make all our hard work worthwhile.
But as we make our rounds wearing our personal protective equipment and maintaining social distancing, you — our wonderful members old and new — have been going out of your way to cheer us on. You've been sending us emails, texts, social media shout outs, and even handwritten notes.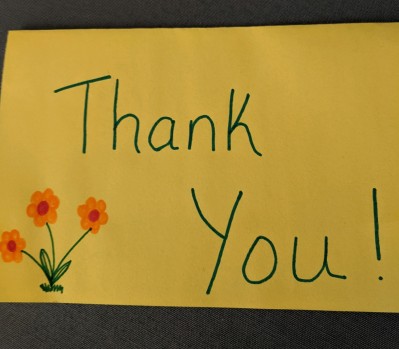 Well, right back at'cha! We really appreciate you, too! For starters, you've donated thousands of dollars to help us deliver free fresh local food to our healthcare heroes.
Thank you for continuing to deliver during these trying times. Also TY for adding the give-back to healthcare professionals fund. I was so happy to be able to donate to that when I placed my order. ❤️
— Janelle
HOME DELIVERY HELPS HEALTHCARE HEROES
These are the healthcare professionals Seasonal Roots wonderful members have nominated for their selfless work. They're on the frontlines of the fight against COVID-19, the disease caused by the coronoavirus. At the end of a long shift, it can be hard for them to find the time and energy to get to a grocery store.
Those heroes are telling us things like this:
I really appreciate it. I'm currently taking care of covid19 patients and having food delivered really means the world to me. Takes off some stress, much needed.
— Katie
I got my first box through the healthcare program and I can't say thank you enough!! These are some great looking veggies and they taste so good! I will definitely stick around and become a customer after my healthcare trial is done! Thank you!!!!!!!!
— Megan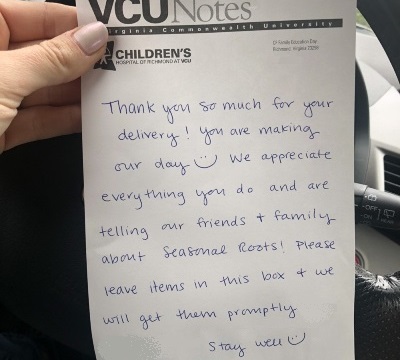 So to all of you who've donated and nominated — thank you for helping us do this good work!
HELPING VEGGIE FAIRIES?
Yep, our members have been helping US, too! Sometimes y'all just make us go, "Aaawww…."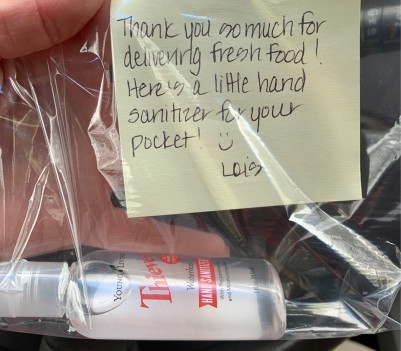 Hope you guys are all safe and healthy! Thanks for still providing your service to us!
— Paige
Thank you for still delivering! I just love ya'll even more for doing that for the community. I hope that you stay healthy and safe!
-Jess
THANK YOU 🙏🏼 for today's delivery!! This is such an amazing service — even more so now 😘
— Bev
Thank you for still keeping everything running. Very much appreciated.
— An Appreciative Member
I'm so proud of Seasonal Roots adapting to this unique environment. Great job to all of you!
— Debbie
HOME DELIVERY IS HELPING MORE LOCAL FAMILIES STAY HOME
We've also heard from new members of our local food community…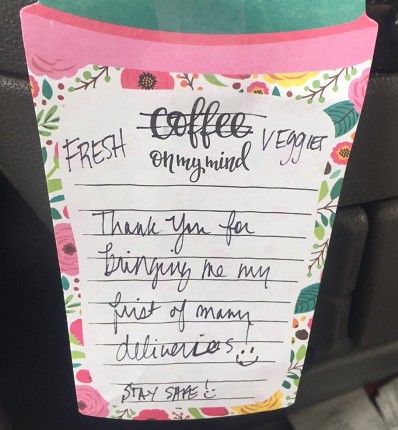 We can't wait for our first order this week!! Thank you for providing this amazing service!
— A New Member
Just signed up this week and referred a friend who also signed up! We are so excited to support local and get yummy food delivered Wednesday!
— Kar
Received our first delivery today. I am impressed and for someone trying to stay home, fresh veggies and fruits are wonderful. Thank you."
— Teresa
We just joined last week. I just want to thank you so much for continuing to deliver the fresh food each week! We have always wanted to support this type of service, but it took this to make us take the jump. We couldn't be happier. We love meal planning around the delivery and look forward to continuing for years to come. Thank you!
— Kimberly
And then there was this, from a military family going through a doubly tough time:
I can't tell you how much we are enjoying our time as members of Seasonal Roots already, my children are enjoying their vegetables. YES I SAID ENJOYING… they are eating them and happy about it. The surprise and variety the boxes brought them was amazing and they dived into helping me prepare food this week and devoured their meals.
Thank you for not just keeping us fed during this trying time, but also bringing some joy and calm to my children and me. We were already not enjoying this year as it contains a very long deployment for my husband, and with everything on top of it, it's just been a very heavy time.
I am so glad I just jumped at the chance to join Seasonal Roots when I had the chance. Thanks again.
— Mary
To Mary and everyone who has joined recently, we're so glad we can help lighten the load!
HOME DELIVERY HELPS LOCAL FARMERS & FOOD ARTISANS, TOO
Home delivery of local food is a real win-win these days:
My neighbors and I are so appreciative of Seasonal Roots, especially during these times. Helps us stay home and rely on your service while supporting regional and local farmers!
— Jina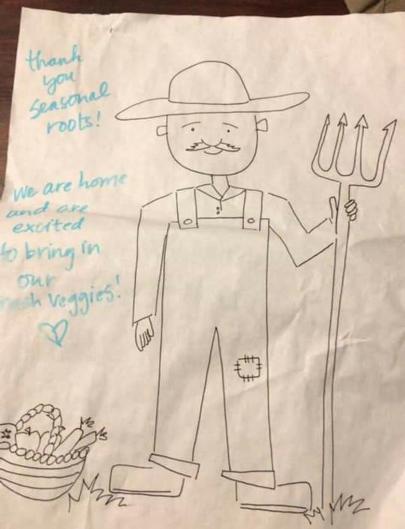 Thanks ya'll for sourcing from our network of remarkable producers – 100% pasture-raised outdoors on small family farms.
— Firsthand Foods
In addition to helping farmers and artisans get through this, their local food is helping families stay healthy… and even rediscovering the joys of fresh food!
The collards last week were the most beautiful and delicious I've ever had. We look forward to our box every week. Thank you!!! 💜
— Michelle
My @seasonal_roots box came with the largest carrots I've ever seen! I roasted some up with bell peppers and paired them with baked tofu for tonight's dinner.
— A Big Carrot, Pepper & Tofu Fan
Thank you for the beautiful produce! Strawberries have already been devoured by everyone. 😊
— Evelyn
We appreciate you! Such a beautiful delivery this week!
— Pamela
If you need a little more joy in the kitchen, check out this joyful story from a Seasonal Roots member and small business owner.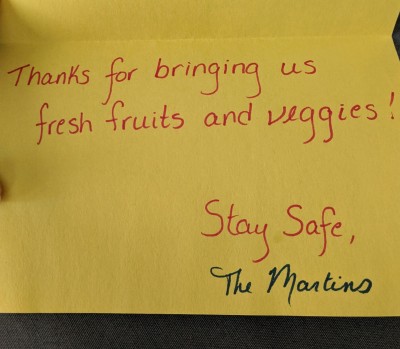 Thanks, everybody! We'll get through this… TOGETHER!
ABOUT SEASONAL ROOTS
Since 2011, Seasonal Roots' online farmers market has connected Virginia families with local family farmers who use sustainable, humane practices. Our veggie fairies – mostly moms who believe in living better through scrumptious, healthy eating, being kind to animals, protecting the environment, and spreading joy – home-deliver freshly harvested produce, eggs, grass-fed dairy and meat, plus artisan fare. We empower our members to eat better and live better with more nutritious, flavorful food that's good for us and good for the planet. More info at seasonalroots.com.
https://blog.seasonalroots.com/wp-content/uploads/2020/04/note-thnx-and-hand-wipes-400x350.jpg
350
400
Veggie Fairy
https://blog.seasonalroots.com/wp-content/uploads/2016/08/seasonal-roots-logo-horizontal.svg
Veggie Fairy
2020-04-07 19:43:15
2020-04-07 19:43:15
Home delivery for healthcare heroes and you -- this is why we do it