Easy meals don't have to be "fast food" — watch this video to see how good for you easy can be
– By the Veggie Fairy Team
Easy meals… because, hey, who doesn't love easy? Whether your days are spent working from home, essential working away from home, homeschooling, caring for a loved one, watching way too much daytime television, or all of the above (whew!) — an easy meal that's also good for you is just what the doctor ordered.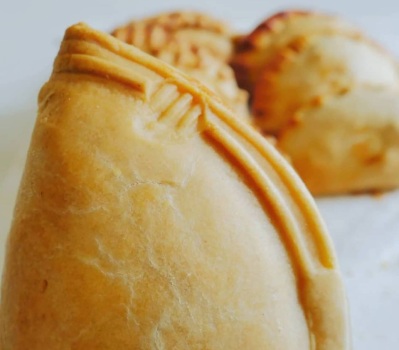 EASY MEAL STEP 1
This easy meal starts with empanadas from My Empanada. Claudia and Juan make their empanadas with a variety of meat or vegetable fillings, so there's something for everyone. You'll find My Empanada under the Prepared Foods tab in the Seasonal Roots online farmers market most weekends.
(Read our profile of Claudia, Juan, and My Empanada.)
These fun, tasty, and good-for-you mainstays come frozen. Preheat the oven to 350 degrees and take enough empanadas out of the freezer for everyone. Depending on the filling, light eaters will enjoy one or two and big eaters two or three, but certain teens in the middle of a growth spurt might eat at least half a dozen. Hey, we've seen it happen.
Brush each empanada with an egg wash. Then pop them in the oven for 25 to 30 minutes, or until they're golden outside and piping hot inside.
EASY MEAL STEP 2
While they're baking, throw together a Greek salad to go with. That's easy, too.
Claudia shows you just how easy in this step-by-step how-to video: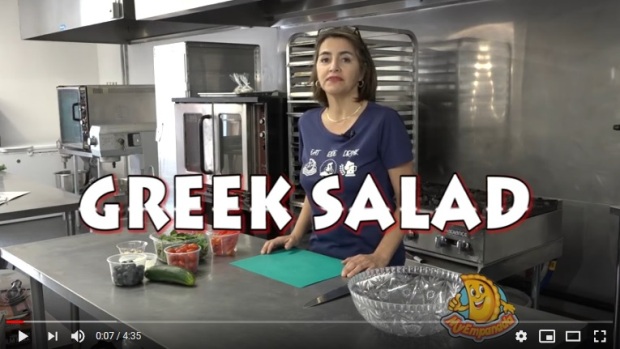 Don't have all the exact ingredients? No worries. Sheltering in place is all about shopping the pantry. Substitute whatever greens, tomatoes, olives, cheese, or nuts you do have. If you're out of cucumber, you can even slice up zucchini in place of a cuke. We promise it'll still be delicious.
When time's up, you'll pull those golden empanadas out of the oven, pass around the salad, and enjoy… without ever breaking a sweat!
ABOUT SEASONAL ROOTS
Since 2011, Seasonal Roots' online farmers market has connected Virginia families with local family farmers who use sustainable, humane practices. Our veggie fairies – mostly moms who believe in living better through scrumptious, healthy eating, being kind to animals, protecting the environment, and spreading joy – home-deliver freshly harvested produce, eggs, grass-fed dairy and meat, plus artisan fare. We empower our members to eat better and live better with more nutritious, flavorful food that's good for us and good for the planet. More info at seasonalroots.com.
https://blog.seasonalroots.com/wp-content/uploads/2020/04/greek-salad-video-open-shot-400x350.jpg
349
400
Veggie Fairy
https://blog.seasonalroots.com/wp-content/uploads/2016/08/seasonal-roots-logo-horizontal.svg
Veggie Fairy
2020-04-13 14:36:30
2020-04-13 14:36:30
Easy meal: Greek salad & empanadas