Thanksgiving Memories and Reflections
Many of us look forward to Thanksgiving, and for many, it is at the very top of the favorite holiday list. Thanksgiving has such a positive sentiment with its focus on being grateful and spending time with family and friends. The joy of gathering and enjoying a delicious (bountiful) meal is center-focus rather than distractions like presents or extravagant decorations.
Perhaps because of our love of food, but also for many other reasons, the Seasonal Roots team loves loves loves the Thanksgiving holiday. In no particular order, the Top 10 favorite ways the Seasonal Roots team spends Thanksgiving include: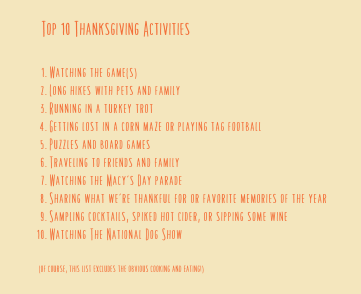 There is another activity that tops the list — the cooking! Just thinking about it now conjures up all of the magnificent aromas of the Thanksgiving meal. (Well, except for that year Leslie burned the marshmallows that were on top of the sweet potato casserole – that aroma was not so good and the smoke detector sound was not so great either.)
Thanksgiving is a holiday of many favorite recipes. We did a Thanksgiving JUST FOR FUN survey and learned about members favorite Thanksgiving foods which we are excited to share over the next few weeks.
It's easy to get caught up in the whirlwind that is Thanksgiving. There's the planning, the buying, the prep in advance, and all of the love that goes into the preparation the day of! Even with enthusiastic helpers, Thanksgiving can be a lot of work. But, it's worth it. The food is plentiful and seconds (or thirds) are encouraged! Oh and don't get us started on the leftovers. Yum!
We hope that you are looking forward to the Thanksgiving holiday as much as we are!
Related Links:
If you'd like to learn more about the Thanksgiving preorder origins and customer feedback, click here.
To go directly to the Thanksgiving Preorder menu, please click here.
ABOUT SEASONAL ROOTS
Since 2011, Seasonal Roots' online farmers market has connected Virginia families with local family farmers who use sustainable, humane practices. Our neighborhood market managers – who believe in living better through scrumptious, healthy eating, being kind to animals, protecting the environment, and spreading joy – home-deliver freshly harvested produce, pastured eggs, grassfed dairy and meat, plus artisan fare. We empower our members to eat better and live better with more nutritious, flavorful food that's good for us and good for the planet. More info at seasonalroots.com.
https://blog.seasonalroots.com/wp-content/uploads/2021/11/Furry-work-companions-450-x-350-px-11.png
350
450
Veggie Fairy
https://blog.seasonalroots.com/wp-content/uploads/2016/08/seasonal-roots-logo-horizontal.svg
Veggie Fairy
2021-11-04 17:34:58
2022-01-06 16:25:18
Thanksgiving favorites