Here's to all the veggie grilling dads out there!
Our founder pays tribute to the joys of grilling veggies:
Grilling veggies is not what most people think of when you bring up the subject of dads and grills. Yabba-dabba-doo-sized slabs of meat, maybe. Tomatoes and Brussels sprouts? Not so much.
Now, I'll admit to enjoying a juicy grilled steak or lamb chop as much as the next guy. But what really floats my boat is grilling veggies. If they're fresh and local, the symphony of flavors unleashed by grilling is mind expanding. Veggies take my grilling game to the next level.
For those of you who are new to grilling veggies, I've got some tips which I will share with you just as soon as I tell you this:
There's another reason why I love grilled veggies. A reason that's closer to my heart.
My kids love them.
When they were little, I loved seeing them reach for more grilled corn on the cob, or grilled broccoli, or grilled onions and mushrooms. Because I knew those fresh local veggies are full of stuff that's good for them.
Back in the '90s, I worked for a big corporation. When the first of my two kids was born, parental leave for fathers was a new thing. I wound up being the first new dad in the company to take advantage of it.
That time at home with my baby daughter taught me a lot. Since she had acid reflux, I learned how to snooze while reclining semi-upright so she could sleep on my chest. I learned the hard way to wear an apron while changing her diaper. (Don't ask.)
But over the years, caring for both children alongside my wife, the most important lesson I learned was how much I loved them. It's a bigger love than I ever imagined, bigger than I have words for. It also made me realize how much my own dad loves me.
And I love nurturing and protecting them all. I love making food for them that's really good for them, food that tastes really good, too. Food that makes them smile while it protects them from the inside out with vitamins, minerals, and antioxidants.
Food and love. You need both to live.
Duane
Seasonal Roots Founder & Head Veggie Fairy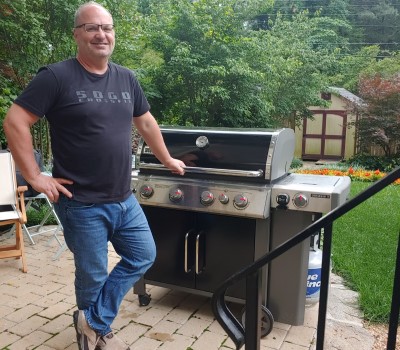 That's me with my brand new fancy-pants grill.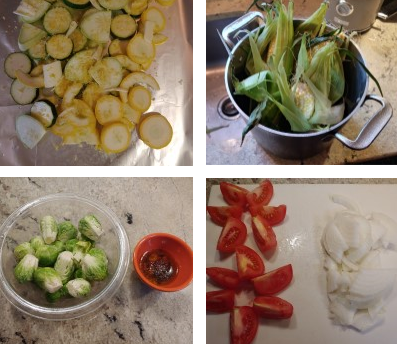 Here's my favorite grilled veggie menu: squash, corn on the cob, tomatoes, onions, and Brussels sprouts. It's so easy to make a feast with these guys.
I start by putting the squash on foil, sprinkling with lemon zest, olive oil, and salt, then folding up the foil to seal it in. That way the squash will steam in its own liquid on the grill.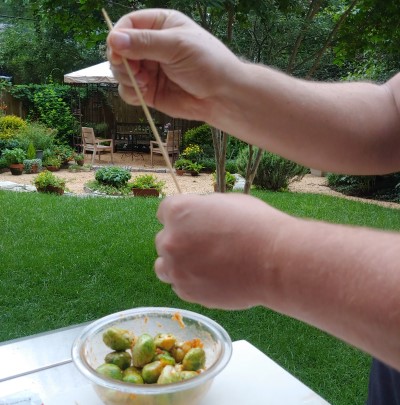 I microwave the Brussels sprouts for three minutes to soften them up a little. Then I toss them in a sauce of olive oil, garlic, smoked paprika, and mustard powder — or use whatever your favorite sauce may be. Skewer them and they're good to go.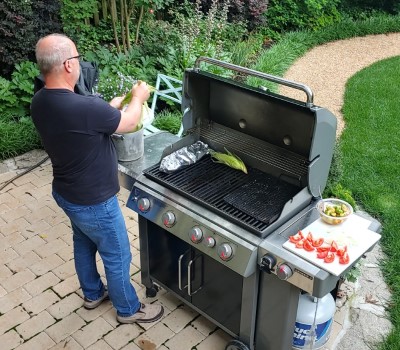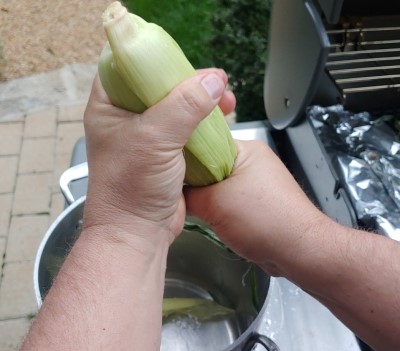 For the corn on the cob, I peel back the husk without removing it, de-silk it, then soak it for 20 minutes. That will keep the husk from burning. Before it goes on the grill, I fold the husk back up around the cob and gently squeeze out any extra water.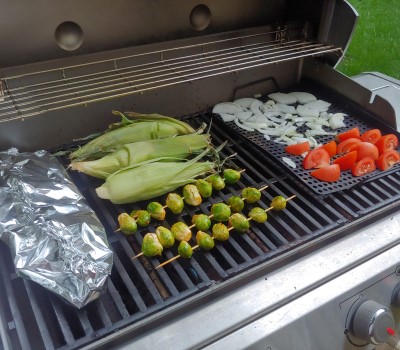 All I do with tomatoes and onions is toss them in olive oil. Since the tomatoes fall apart and the onion slices fall through the grate, I grill them on a perforated griddle. Foil would do just as well.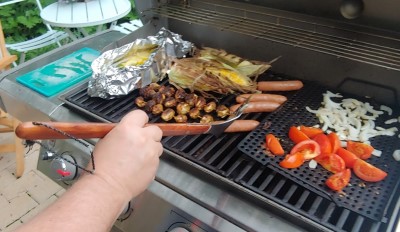 For a little protein on the side, I threw on some chicken brats because they're as easy as the veggies. I grill everything for about 20 minutes, lifting the cover now and then to turn it all to make sure it browns evenly.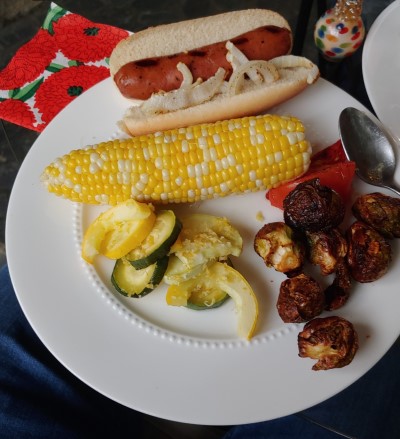 And voila! At the end I sprinkle a little lemon juice on the squash and call 'er done. It looks as good as it tastes and isn't hard to make. The perfect meal.
Happy Father's Day, everybody!
PS: There are more grilling tips from a past Father's Day right here on the Veggie Fairy Blog, including how to use heating zones on your grill and how to grill the perfect locally raised grassfed steak.
ABOUT SEASONAL ROOTS
Since 2011, Seasonal Roots' online farmers market has connected Virginia families with local family farmers who use sustainable, humane practices. Our neighborhood market managers – who believe in living better through scrumptious, healthy eating, being kind to animals, protecting the environment, and spreading joy – home-deliver freshly harvested produce, pastured eggs, grassfed dairy and meat, plus artisan fare. We empower our members to eat better and live better with more nutritious, flavorful food that's good for us and good for the planet. More info at seasonalroots.com.
https://blog.seasonalroots.com/wp-content/uploads/2021/06/veggie-grilling-featured-400x350.jpg
350
400
Veggie Fairy
https://blog.seasonalroots.com/wp-content/uploads/2016/08/seasonal-roots-logo-horizontal.svg
Veggie Fairy
2021-06-14 20:43:42
2021-08-08 10:24:57
Grilling veggies: Who knew it could be an act of fatherly love?