Ordering them to eat their veggies isn't one of them!!!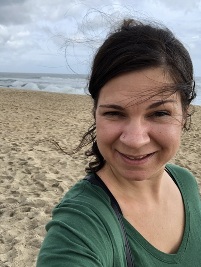 – By Morgan P, veggie fairy & neighborhood Market Manager in Virginia Beach
In my five years of motherhood, children and vegetable eating have definitely been an unsolved mystery to me. It's like it's in their DNA to rebel against at least some vegetables at some age. Just like most parents I know, I want my kids to be healthy and have balanced nutrition. But sometimes it's a struggle to get those greens in them.
So here are my best tips, tricks, and suggestions to get help kids eat veggies, with or without their knowledge.
1. Let them unpack the box
Since we started getting our weekly Seasonal Roots basket, my 5-year-old gets so excited when she gets to take everything out and put it on the counter. She sorts, counts, and questions. Sometimes she'll randomly pop a piece of lettuce in her mouth. The worst thing I can do is let on that I noticed! At least with my kid — it would guarantee instant rebellion. So I rejoice inside as my kid finally tries and admits, "I like salad."
2. Get a Mother's Helper stool
I have a "mother's helper" kitchen stool that my 1-year-old and 5-year-old can stand on or sit on to help me cook. This gets them up where they can indulge their curiosity and taste-test everything. Being part of the process gets them excited to try new things. Bonus: Sometimes after taking the ends off a green bean or a radish they pop one in their mouth, or sample a freshly roasted beet.
3. Let them experiment
Sometimes their experiments are successful. Sometimes they learn what they don't like.
4. Give them a mission
I give them tasks disguised as missions: Put the beets in the water/vinegar cleaning mixture, or lay the squash on the roasting pan after I cut it, etc. — whatever's suited to their age and ability.
5. Chocolate chips are a parent's friend
Recently I began adding a few chocolate chips to pumpkin muffins and zucchini bread. That was a game changer! They're easy breakfast solutions packed with nutrients and a little sweetness. The pumpkin muffins didn't last 24 hours in my house!
6. Hide the greens
I purée spinach and add it to meatballs. I add kale to smoothies, then freeze them into popsicle molds. My kids don't like the smoothie texture but most of the time they love the popsicles.
7. Actually, you can hide just about anything
Case in point: I use puréed sweet potatoes to thicken my chili and it is delicious.
There are so many ways to expose children to vegetables creatively! Kids want to help, and when they help create and cook something they wind up a little more excited about eating it.
ABOUT SEASONAL ROOTS
Since 2011, Seasonal Roots' online farmers market has connected Virginia families with local family farmers who use sustainable, humane practices. Our veggie fairies – mostly moms who believe in living better through scrumptious, healthy eating, being kind to animals, protecting the environment, and spreading joy – home-deliver freshly harvested produce, pastured eggs, grassfed dairy and meat, plus artisan fare. We empower our members to eat better and live better with more nutritious, flavorful food that's good for us and good for the planet. More info at seasonalroots.com.
https://blog.seasonalroots.com/wp-content/uploads/2018/10/kid-eats-apple-400.jpg
350
401
Veggie Fairy
https://blog.seasonalroots.com/wp-content/uploads/2016/08/seasonal-roots-logo-horizontal.svg
Veggie Fairy
2018-10-23 18:29:13
2021-07-05 10:41:33
7 ways I help my kids eat veggies (and fruits)