Don't just take our word for it — check out what our members have to say!
(Got less than 2 minutes? Click here to watch our members talk farm-fresh food on the Seasonal Roots YouTube Channel.)
Nothing beats farm-fresh food. And once you have a taste for it, Seasonal Roots is the easiest way to get the freshest local food. Seasonal Roots members explain why.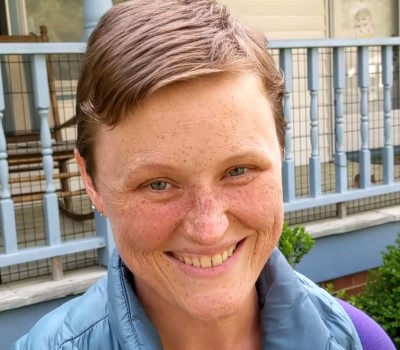 "I first heard about Seasonal Roots from two local friends," says Hannah, a Seasonal Roots member since 2020. "They told us how easy it was to order and that everything came right to your doorstep, and it was all fresh local food."
Has Seasonal Roots lived up to those promises?
"Oh yes, above and beyond!  It's fresh, it's local, it's high quality, and delicious."
Taste the farm-fresh difference
"When it comes to having farm-fresh produce, it is just a world of difference," says Erica, who's been enjoying fresh local food from Seasonal Roots since 2016.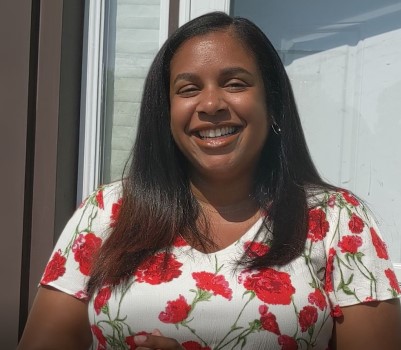 A busy mom, she found us through a quick Google search. She grew up with fresh produce from her grandparents' garden. "I just love the fresh produce. Once you have it, and you taste the difference, you taste the freshness of the fruits and the vegetables — then buying grocery store produce, even organic produce from the grocery store, you still get that kind of filmy taste where they have sprayed it just to try to preserve the shelf life of it. So there is a huge difference."
"I grew up on a farm," Hannah recalls. How does Seasonal Roots compare? "The quality of the fruits and the veggies and the artisan foods is amazing."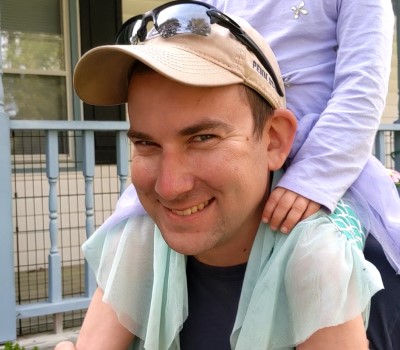 Hannah's husband Hamilton adds, "I had worked on her family farm for a summer, so I know the difference between store-bought groceries and right-from-the-farm groceries. And you can really taste a difference."
Erica agrees. "I cannot eat grocery store carrots anymore just because I swear by these carrots that come from the local farms. They're sweet. They taste fresh." (So tell us how you really feel about the carrots, Erica!) She laughs, "The carrots are, like, out of this world!"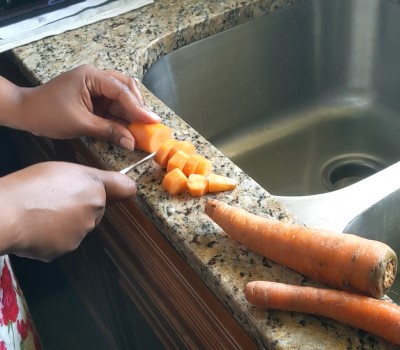 For Jo Anne, who's also been a member since 2016, her fave is greener: "Kale for my juices."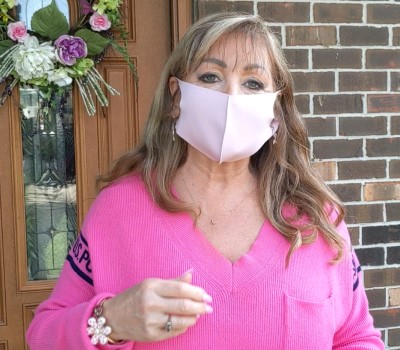 As Jo Anne sorts through her freshly delivered box of goodies she sighs, "Beautiful, my box is always beautiful. I always get whatever's in season. Never disappointed." She holds up a green and white bouquet of spring onions. "Mmmm, yummy!"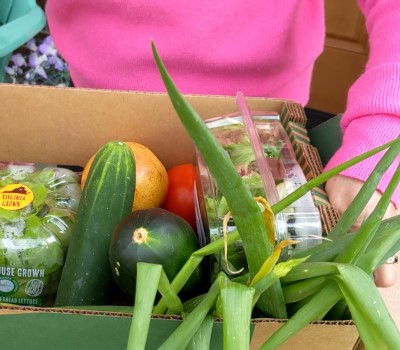 Hannah's fave? "I love the hydroponic lettuce that comes from the hydroponic farm. And the fresh farm eggs. They are so delicious! Better than Costco."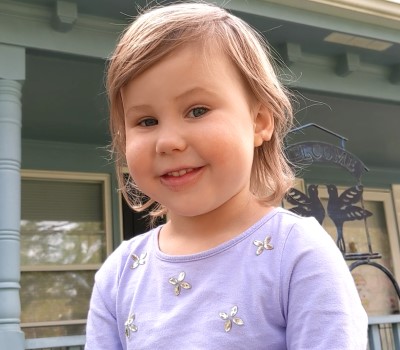 Hannah and Hamilton's little one chimes in: "I like strawberry yogurt!"
Convenient online ordering plus home delivery of farm-fresh food
"It's convenient that it's just delivered to my door," says Erica. "I have small kids and we have a busy schedule, always on the go. And so if I don't have to worry about going to the farmers market or going to the grocery store, then that's just one less thing. That is off my list."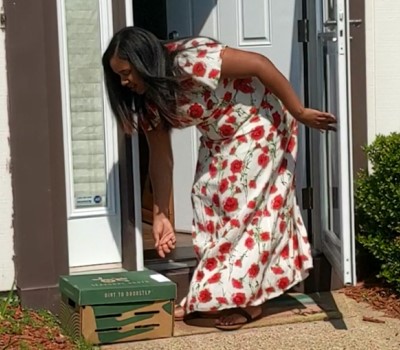 Neighborhood Market Managers provide personalized customer care
Hannah says, "We love our Market Manager who delivers our food. She's become a friend." She turns to her daughter. "Do you like it when the Veggie Fairy comes?" The answer is a definite, "Yeah!"
Erica explains the advantage of knowing exactly who's dropping off your food. "She writes me these little, I call them little love notes — updates if something's missing, or she swapped something out or she put a little extra peppers or something like that in my box."
According to Jo Anne, "I have the best Veggie Fairy ever." (Everyone says that!) "Really, you can always count on the freshness. And guaranteed, too. If something isn't right, you make a phone call — they WILL make it right."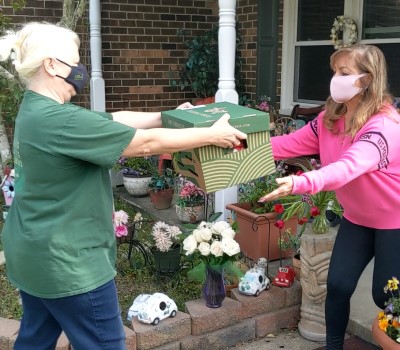 Erica concludes: "Having someone that cares, someone that is coming and delivering produce to your family, that is just everything."
(Discover what neighborhood Market Managers have to say about Seasonal Roots)
Supporting local farmers is a win-win!
Part of the reason Hannah joined was because of where she grew up. "I grew up on my family's farm. So when we moved down here I wanted to support the local farmers."
Jo Anne points out, "It tastes different from the grocery store, because it IS much fresher. You're also supporting the local farms. So it's a win-win situation!"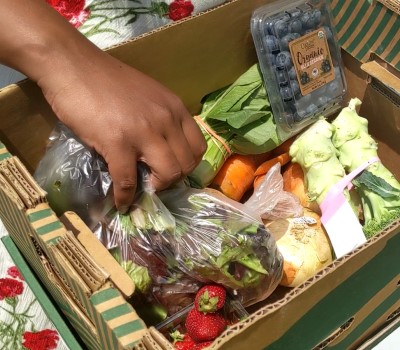 Hamilton sums it all up: "If you're looking for higher quality, this is the way to go."
ABOUT SEASONAL ROOTS
Since 2011, Seasonal Roots' online farmers market has connected Virginia families with local family farmers who use sustainable, humane practices. Our veggie fairies – mostly moms and dads who believe in living better through scrumptious, healthy eating, being kind to animals, protecting the environment, and spreading joy – home-deliver freshly harvested produce, eggs, grass-fed dairy and meat, plus artisan fare. We empower our members to eat better and live better with more nutritious, flavorful food that's good for us and good for the planet. More info at seasonalroots.com.
https://blog.seasonalroots.com/wp-content/uploads/2021/07/family-400x350.jpg
350
400
Veggie Fairy
https://blog.seasonalroots.com/wp-content/uploads/2016/08/seasonal-roots-logo-horizontal.svg
Veggie Fairy
2021-07-19 22:32:31
2021-07-19 22:41:53
Why farm-fresh food lovers LOVE Seasonal Roots