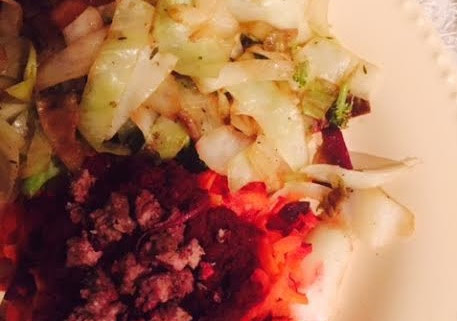 Written by: Emma – Our in-house AASDN-Certified Nutrition Specialist
Made using ingredients from the Garden Box Delivered January 14, 2015
Think outside the box!  Literally…
This combination uses beets, carrots, garlic and onion instead of tomato sauce.  Not that there is anything wrong with tomato sauce, except added sugars, but why buy something in a can when you can have real, fresh stuff instead?!
Ingredients:  4 beets, 4 carrots, cabbage, 1 onion, 1/4 of a lemon, garlic, salt, butter, oil, oregano and thyme.
Start by washing, skinning and chopping up 2 carrots and 2 beets.  Also, chop the onion while you're there.  You can chop them all thick.
Next add butter or oil to a pan with the onions, oregano, thyme and salt.  Saute for 2-3 minutes before adding the other vegetables.
Saute for another 4-5 minutes or until the flavors are mixed well.
Allow it to cool and then add to a Vitamix or other high-powered blender along with a squeeze from 1/4 of a lemon.
Blend only for a few seconds as you want to keep this chunky, not watery.
Meanwhile, spiralize the remaining carrots and beets (After washing and peeling).  These will be your noodles.
Place them in a bowl with some oil and salt.  Coat the noodles well.
Chop the cabbage and saute in more of the oil with some more of the onion, salt, oregano and thyme.
Serve the noodles over the cooked cabbage and the "sauce" over the noodles along with some cooked ground meat!