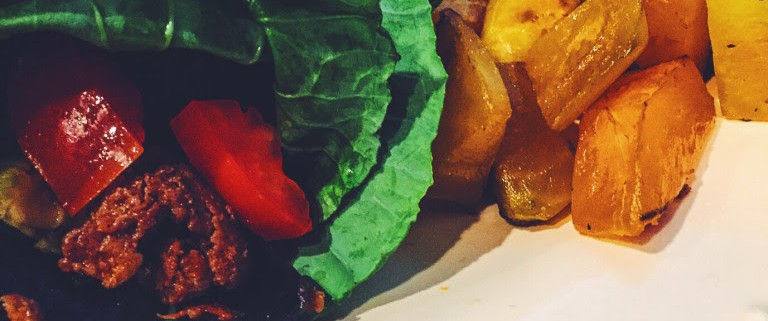 Written by: Emma – Our in-house AASDN-Certified Nutrition Specialist
Made using ingredients from the Garden Box Delivered January 20, 2015
Collard Chorizo Wraps
With this winter storm, we need two things… warmth and greens!
This week's recipe calls for:
1 lb chorizo sausage
8 collard leaves
small bunch of cilantro
2 tomatoes
1 avocado
1/2 head of cabbage
olive oil
1 inch fresh turmeric
First, wash the collards and cut the stem from them.  You will use these as the wraps.  Set them aside
Next, chop the cabbage into small pieces and place into a large pot with some oil.
Add diced onions, chopped cilantro and grated turmeric.  Dice the tomatoes and the avocado, but leave them to add as toppings after everything has cooked.
Next, chop the chorizo into small pieces and add it to the bowl of cabbage, onions, cilantro and turmeric.
Cook the chorizo until browned.  Then lay each collard flat and spread some of the sauteed mixture at the top.  Top with avocado and tomato.  Roll up carefully and sink those teeth in!
I served it alongside some golden beets!
Stay warm everyone!