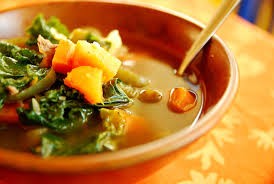 Designed for the January 2016 Stew Box
Ingredients:
2-3 golden delicious apples- peeled, cored and diced
1 bunch curly kale- destemmed, cleaned and chopped
3-4 medium sweet potatoes- partially peeled, diced into ½ inch pieces
3-4 loose carrots- peeled, cut in half lengthwise and sliced in half moon slivers
1 pound white mushrooms- cleaned, dried and roasted with a little olive oil, salt and pepper at 325 for 15 minutes. (you will use the juice from these in the broth!) Slice after they cool!
2 small onions, diced
2 cloves of garlic, minced
8-10 cups of either chicken or veggie Stock
salt and pepper to your taste
Optional: You can add either ground turkey or pork!!
Optional: Cornstarch if desired, 1 Tbs cornstarch dissolved into 1 Tbs cold water. Drizzle into the stew when it is boiling.
Directions:
In a large heavy bottomed soup pot, bring a splash of olive oil up to medium heat. Add the onions and garlic to the oil and saute for 5-7 minutes until the onions start to become clear. Make sure to season with salt and pepper along the way. Next add the diced apples and carrots, let cook down for about 10-15 minutes. Next add half of the stock and bring to a boil then reduce heat to a simmer. Now add your roasted sliced mushrooms (as well as the turkey or pork) and all of that great juice in the bottom of the roasting pan. Now add the rest of the stock and the chopped kale, return to a boil for about 2-3 minutes then reduce to a simmer and cover for 35-40 minutes. If you desire the broth to be a little thicker now is the time to add a little cornstarch slurry before you start the simmer.