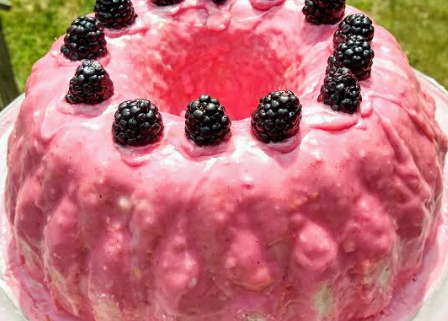 BLACKBERRY LEMON GLAZED POUND CAKE
Ingredients for Cake:
2 1/4 C all-purpose flour
2 C Sugar
1⁄2 t Baking Soda
1⁄2 t Salt
1 t Freshly Grated Lemon Zest
1 t Vanilla Extract
1 C Butter, softened
1 C Sour Cream
3 Large Eggs
Ingredients for Glaze:
3⁄4 C Blackberries + Additional for garnish
1⁄2 T Vanilla Extract
3 T Butter, Melted
4 T Freshly Squeezed Lemon Juice
3 C Sifted Confectioners Sugar
1 T Freshly Grated Lemon Zest
Preheat oven to 325 degrees F. Grease a Bundt Pan and dust the inside with sugar. Mix all cake ingredients in a large bowl. Spoon batter carefully into pan; bake 60- 75 minutes until a toothpick inserted comes out clean. Cool on a rack 15 minutes. Invert onto large serving dish.
For glaze, mash, or blend the 3/4 C of blackberries and push through a fine strainer with a spoon to remove the seeds. In a small bowl, whisk together the blackberry juice, vanilla, lemon juice and melted butter. Place confectioner's sugar and lemon zest in another bowl, and whisk together. Carefully pour the liquid into the confectioner's sugar and whisk to mix. The glaze should be runny and about the thickness of honey or molasses. If it's too thin, add powdered sugar; too thick, whisk in a teaspoon of lemon juice until you reach the desired thickness. Spoon the glaze over the cake and garnish the top with berries.
—————————————————————————————————————