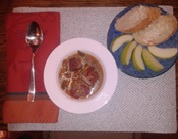 Duane's Beef Stew
Recipe courtesy of Duane Slyder
Ingredients:
4 lbs stew meat (cubed into bite size pieces, 1.5 inches square)
2 fresh onions (chopped)
1 bouquet garni (bay leaf, thyme, oregano, rosemary, black pepper corn)
2 potato (skinned and cubed)
6 carrots (more isn't bad either, cleaned and bite size pieces)
Fresh green beans (trimmed and cut into 1.5 inch pieces)
3 – 5 chopped tomatoes
2 – 3 yellow squash (sliced to 1/4 inch half circles)
2/3 bottle cabernet sauvignon (any hardy red wine will do)
2 tsp garlic
Fresh shiitake mushrooms (quartered)
1 can beef broth
3 cups water
Instructions
Cook onions in 2 tbs of olive oil until translucent (about 10 minutes). Slice each squash into ¼ inch half circles and place on a baking pan. Sprinkle with olive oil and cook for 20 minutes at 350 degrees, watch so they don't burn.
Place ½ cup of flour, 1 tsp salt, and 1 tsp pepper in a plastic bag and shake stew meat inside to coat. Brown stew meat in a pan with a 4 tbs of olive oil (Place oil in pan and turn stove to medium high. When shimmering put one layer of stew meat in pan and brown outsides, about 4 minutes. Don't worry if meat is still raw inside, you are sealing in the juices and the meat will finish cooking in the stew.)
Set onions and stew meat in a big pot. Put bouquet garni in a stew bag. (I bought cheap panty hose at CVS and cut them to make my first stew bags.Place the herbs in and tie off with string or a plastic twisty tie. We want the flavor but not the herbs in the stew, though it's not terrible to just put the herbs right in the pot.) Add to the big pot all but carrots, green beans, and mushrooms. Cook for 2 hours on low heat, you just want it simmering. Add remaining veggies and cook another hour.
Secret: Stew always tastes better the second day. Don't know why.
Final secret: I use Bragg Liquid Aminos to spike my stew whenever it needs a boost before serving. Just add to taste. You can add salt instead. Great with the half size baguette and more cabernet sauvignon.