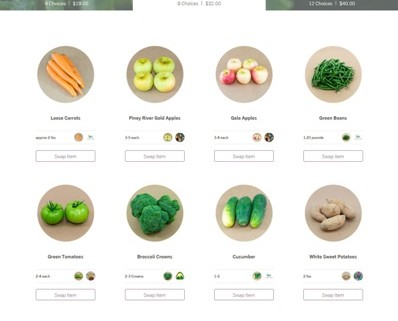 How to place the order you want (or skip a week) here at your online farmers market
Here's the step-by-step to help you get it done right: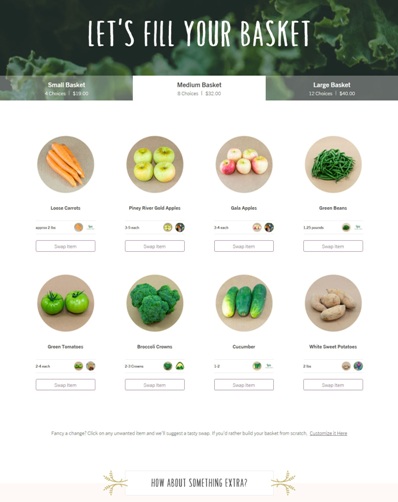 1. When our farmers market is open, the first thing you see is the Market Page. Go to the top and choose a basket size. Each basket comes prefilled with seasonal produce – 4 items in the small basket, 8 in the medium, 12 in the large.
2. Next, make any changes you want by swapping items or filling a customized basket from scratch. (Guests, take note: As soon as you join and become a member, you'll have the option to swap, too!) So you do it like this:
 After you choose your basket size, check out what's in it. Let's say you don't want green tomatoes.  Click on the "Swap Item" button below the tomatoes and the picture will start rotating through several other popular items. Keep clicking till you see what you want.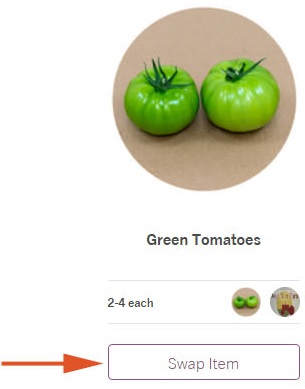 But say you want even more choices. In that case, just fill your basket from scratch. Scroll down to the "Fancy a change?" line, and at the end of that line, click on "Customize it here."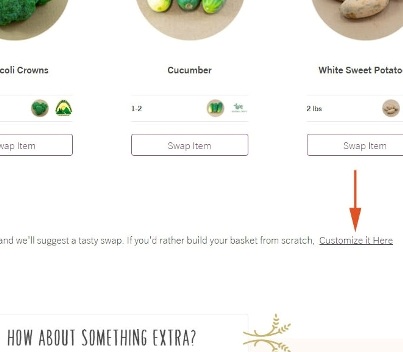 That takes you to the full range of everything our farmers have ready for harvest. Click the plus sign (+) below the items you want until all the photo slots in the upper left are filled. Again, that's 4 choices for a small basket, 8 for a medium, and 12 large.
Once all the choices are filled, the "Update Order" button will appear in the upper right. Click on it and you're done! (Unless you want to order extras – read the rest of this post for more on that.)
You can keep changing your mind and adding and subtracting from your basket all weekend.
3. Need more info about an item? Click on the tiny round photo of it under its name. Want to know who grew it or made it? Click on the other tiny logo/people pic.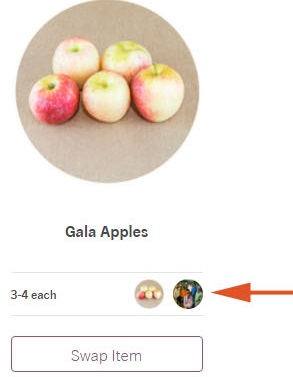 4. Once you're done filling your basic basket, you can still add extras – just scroll down the Market Page. There are 5 categories of extras: Bakery, Produce, Dairy, Artisan Goods, and Meats. To see what's available in each category, click on its tab. (Inside scoop: We've got a Gifts category coming soon!)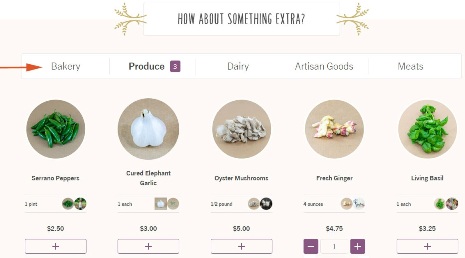 5. To add an extra item, click on the plus sign (+) below the item. As you add new items, a purple counter appears on the tab to help you keep track. (Guests, once you become a member you can add as many extras as you want instead of just one.)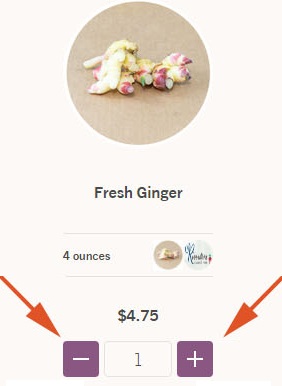 6. To add more of that item, keep clicking the +. If the + doesn't light up, that means there's only enough of that item for you to order one. If you change your mind and want to remove an item, click the minus sign (-) below that item.
7. When you're all done filling your basket and adding extras, scroll further down the Market Page. If you have a promo code, a.k.a. a Veggie Fairy code, enter it and click "Apply".
8. Then scroll down again to the very bottom of the Market Page and click the big green "Save And Review My Order" button. You must click it to place your order. If you don't, your carefully filled basket will go POOF and your Veggie Fairy will never know it existed. Instead, she'll deliver the original pre-filled basket, which will leave you disappointed, and that will make your Fairy very sad. And there's nothing sadder than a sad Veggie Fairy.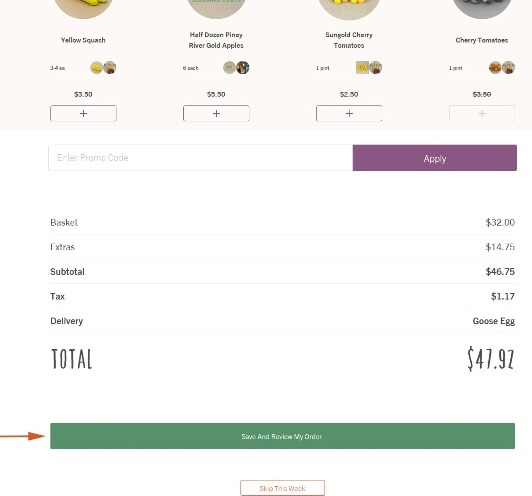 9. So let's say you click "Save And Review My Order"… and then you change your mind. That's okay! You can still make as many changes as you want until the clock strikes midnight on Sunday night. To make changes, scroll down to the bottom of the Summary Page and click on the purple "Edit My Order" button. That will re-open your order, taking you back to the Market Page.
10. Just remember: Each time you re-open your order, always click the "Save And Review My Order" button AGAIN at the bottom of the Market Page. Otherwise your basket reverts back to the previous saved order.
11. Then again, maybe you don't want to place any order at all. At the very bottom of the Market Page, underneath the "Save And Review My Order", there's a red "Skip This Week" button. Click it.


12. You can change your mind about skipping, too. On the You Skipped This Week Page, just click the green "On second thought, I'd like to place an order" button to re-open your order and go back to the Market Page. But if, on third thought, you decide you really do need to skip this week after all, YOU MUST CLICK "Skip This Week" AGAIN.
13. So basically, every time you open the Market Page, click either "Save And Review My Order" or "Skip This Week" to make sure you get what you want!